Is this the "WHY" we've been looking for? Many have struggled to imagine Covid-19 could be manmade, or intentional, because there didn't seem to be a reason. After listening to this very alarming podcast with UN/WHO Whistleblower, things may seem a little clearer. The time to learn and act is now.
Podcast: Astrid Stuckelberger on the WHO's 'Pandemic Treaty' – Jerm Warfare
In this Perpetual Pandemic Scenario, the UN, unelected, would become the leading organizational body ruling over all countries, under the guise of health care. Health care has been intentionally woven into every aspect of government, like an octopus, per Astrid Stuckleberger. So, such a treaty would essentially allow control of all of a country's resources to ensure that the least protected would have access to vaccines, PPE, health services, food-security, etc. They would also control borders, under the premise of controlling the spread to other countries.
And they've opened the door to the idea that Climate Change will lead to an increase in Pandemics. Might that mean that they can take control over energy resources and consumption, in their supposed effort to be the pandemic watch dog of the world.
The pandemic is the key that turns the lock to one world government, and it may be happening right under our noses.
Dr. Aaron Kheriaty: "This vaccine passport system gives unprecedented level of surveillance, monitoring. and control to many different institutions, not just the government…That's going to be used for other purposes…. Right, there is going to be another public health crisis. There are social issues already in play that over the last year have been redefined as public health issues. Climate change would be one obvious example… I think this same infrastructure is probably going to be deployed to again try to control [the] movements of the populations." – The Vigilant Fox
Astrid shares shocking details on the foundation that has been laid for decades which will allow these unelected Globalist organizations to slither away with our rights. Astrid has worked in with these organizations for years believing the intentions were good. It wasn't until recently that she began to see the bigger picture. Now she is trying to blow the whistle before time runs out.
Below is the submission she prepared in response to the coming WHO Pandemic Treaty. She's raising the alarm so more countries or citizens, if they're not represented by their governments, can take action.
Countries are only allowed to "opt out" and the time period ends June 2022. After this period, countries will have essentially agreed to cede their sovereignty, and the rights of their citizens, to an unelected, global governing body. This would only be effective during a global pandemic, of course. However, when you are unelected, selected, global powers, what's to stop you from 'creating' either a pandemic, or the impression of one?
Many who've wished to usher in Socialism or Communism to the US have stated it would not do to have war, the people would never accept their acute loss of freedom. It must happen slowly, over time. Some might remember the most aggressive have been fans of the Saul Alinsky's 'Rules for Radicals', a summary of which is below. Note that the number one thing to do, is to take over the healthcare, think Obamacare. The list continues with Poverty, Debt, Gun Control, Welfare, Education, Religion, and Class Warfare. It reads like the priorities of the current, radical members of the Democrat Party.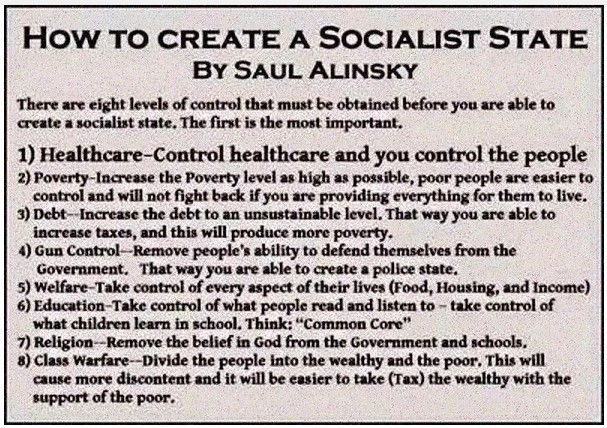 Recent topics, such as the idea of targeted Covid-19 outbreaks via whatever method, toxic hospital protocols that result in more deaths, and an experimental jab that may unleash perpetual auto immune issues (AIDS) certainly show us how easily pandemic priming can be achieved. Venoms have been used in pharmaceuticals for decades. Now they can synthesize those in a lab and create as much as they'd like. Companies like Venomtech and ToxinTech have massive libraries of toxins that target body systems such a neuromuscular, cardiovascular, and hematological. They can be tailored to achieve all manner of disease or symptoms. That can work for good or evil.
If you're not yet familiar with the very real plans of organizations such as the World Economic Forum, it's time to read up. Here's the UN's 2030 Agenda for Sustainability (pdf below). To bring this home, they must have control over all of the major countries. People will naturally compare their freedoms to those in other countries. This plan only works, if we are all in the same economic situation. All, but those in charge, of course.
Take heed. Build Back Better implies destruction. The current administration's agenda seems to be just that.
---
Learn More About:
Legal Advocacy for Medical Freedoms | Patient Advocacy Tools | Effective Remedies
Help us educate and advocate by sharing this article today!
More on Crimes Against Humanity
---
Must Watch: THE PLAN shows the official agenda of the World Health Organization to have ten years of ongoing pandemics, from 2020 to 2030. This is revealed by a WHO virologist, Marion Koopmans. You will also see shocking evidence that the first pandemic was planned and abundantly announced right before it happened. Make sure to…