Dr. David Martin Reveals the farcical role of AP Fact Checkers and 'Truth Telling Journalists' Like Ali Swenson.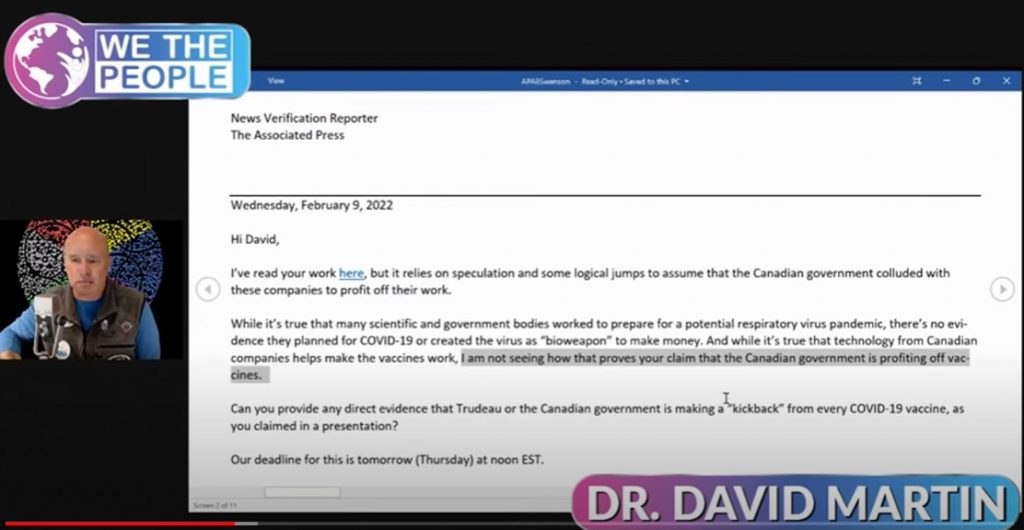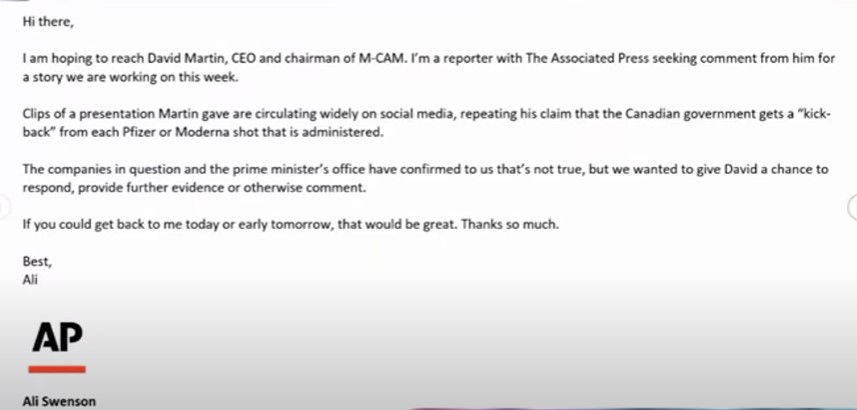 In his voluminous exchange with this intrepid truth teller, Dr. Martin provided excerpts and documents to substantiate his claims.

Dr. Martin on Trudeau's dishonest dealings…
"What he didn't tell Canada, or the world was that Canada controlled the mRNA Injection Platform and was going to be enriched by both Moderna and Pfizer's partnership with Bayern Tech. And that is because, by the way, there are two companies, Arbutus [Biopharma] and Acuitas [Therapeutics], the owners of the lipid nanoparticle licensed to both Moderna and Pfizer's BioNtech.
They own it and so the reason why I said that they would benefit from it is because they own the technology. He already knew that the gene therapy being promoted as an injection was an economic win for Canada; and therefore, Trudeau's Canada had the monopoly on the world's adoption of mRNA gene therapy shots. He was not promoting science; he was promoting the Canadian economic interest in the gene therapy illegally promoted as this injection."
More on the original accusations of this at the blog, None Dare Call It Treason.
The Fauci Dossier, Dr. David Martin.
---
Learn More About:
Legal Advocacy for Medical Freedoms | Patient Advocacy Tools | Effective Remedies
Help us educate and advocate by sharing this article today!
More On Covid Profiteering
---
Dr. Alyssa Chapital, no longer the Chief Medical Officer, will learn her fate in the next 10 days. Ali Shultz provides a three-minute statement during the Arizona Medical Board investigative hearing. Her emotional testimony can be heard below, and the transcript follows. Transcript of Testimony Dr. Alyssa Chapital, Chief Medical Officer of the Mayo Clinic…