A Bureaucratic Parlor Trick kept dozens of Healthcare workers from voicing their concerns at the DOH Meeting in September 2021 and they're fighting back
The NY Governor, State Dept. of Health, and Attorney General are trying to remove the religious exemption from the COVID vaccine mandate ordered on all medical and health services personnel by implementing Article 78 of the CPLR. In order to remove these Constitutional Rights, it is alleged they are abusing their discretionary powers.
In August last year the Dept. of Health announced they would be holding a hearing on the new Mandatory Covid-19 Vaccination Policy for NY Healthcare Workers in September. In order to speak, one had to submit a form which included a summary of talking points. But just a few days before the scheduled meeting of September 2, 2021, an email was sent from the DOH, with a letter falsely stating that the hearing had been canceled.
"The content of this email is confidential and intended for the recipient specified in the message only. It is strictly forbidden to share any part of this message with any third party, without the written consent of the sender. If you received this message by mistake, please reply to this message and follow with its deletion, so that we can ensure such a mistake does not occur in the future."
The email from the Dept. of Health included an ominous warning that the contents were to be kept strictly confidential. A few brave healthcare workers were smart enough to share it with their attorneys; see full email below.
They were shocked to learn the meeting was in fact held, as originally scheduled, on September 2. Where in it was noted several times that "no one from the public that had requested to speak" was present. Their voices were essentially silenced. The words they submitted against the policy went unheard and unread. And the NY DOH made policy under the false pretense of broad acceptance from stakeholders.
The NY Healthcare Workers are not taking this sitting down. 'Last Year's Heroes' know how to fight. Last week they filed a class action lawsuit in the Supreme Court of the State of New York, Jefferson County, represented by the courageous attorneys at Mermigis Law Group, P.C., in conjunction with Myer and Scher, LLP.
"In what world does the Dept of Health Commissioner have the right to remove a right secured for New Yorkers by the First Amendment of the Constitution? Removing a First Amendment right is an egregious violation of New Yorkers' constitutional rights and therefore an abuse of discretion."

Attorney James Mermigis, Esq.
The deceptive practices of this NY DOH, with use of procedural parlor tricks, are egregious. And it begs the question, "What other groups have been silenced in this way, allowing the public to assume broad acceptance." Has this become standard operating procedure?
Hands for Health and Freedom, a legal and medical advocacy organization, has issued a statement in support of these heroes and their constitutionally protected rights.
We hope you will join us in supporting these courageous voices, leading the charge for medical freedom. And in some small way, give back to those that gave so much in 2020!
Notice of Canceled Meeting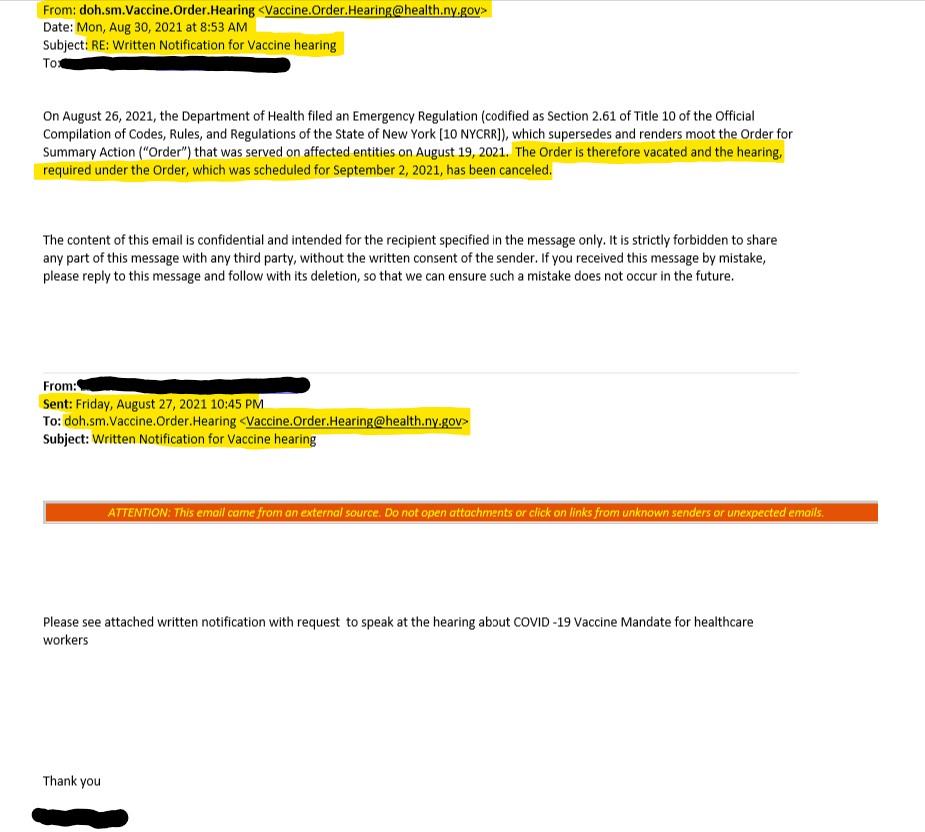 ---
More from Courageous Voices
Attorney Todd Callender lays out the legal pathways currently under construction to corral us all into a new era of martial law. Todd's deep understanding of international law and politics, paired with a strong medical background helps him bring many things into perspective. He and Maria try to clear the sleep from our eyes and…