Wall Street Wonder Edward Dowd, Formerly of BlackRock, HSBC Shares His Thoughts on This and More from His Research and Discussions with Pfizer's Drug Trial Whistleblower, Brook Jackson.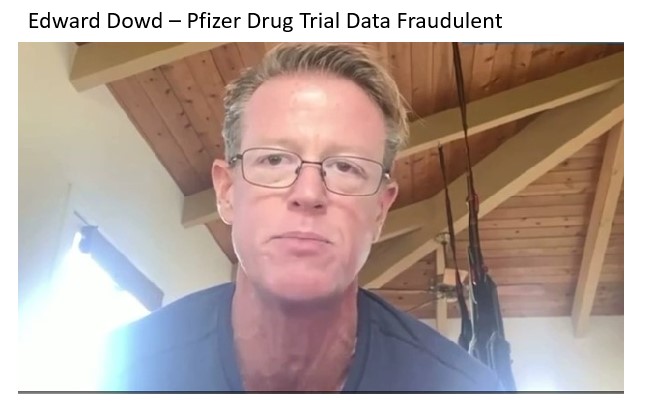 Former Wall Street Professional with HSBC, BlackRock, etc. speaks about Pfizer Fraud, Vaers Data Base, DOD Leak, and so much more on Infowars.
"If people wake up to the fact that it's fraud, we can end the vaccine programs right away and that will be a good start to ending this nonsense and madness that's going on across the globe.
The FDA and Pfizer together are now trying to hide the clinical trial data from the first initial vaccines that launched in January. That's fraud. You do not hide data from the public unless you've committed fraud.
We saw the deaths and the disability going on so, we knew this was a cover up of crimes.
Once I went public with that and appeared on the Steve Bannon Show, Brook Jackson, the Ventavia Whistleblower who was overseeing some of the clinical trials back in September of 2020 reached out to me and I did a podcast with her on the Thomas Paine Podcast. It's become clear to me; the clinical data is fraud." – Edward Dowd on Infowars
See full interview here. Edward Dowd starts at 1:32:53
This dramatic increase in mortality rates may make a little more sense now.
---
Learn More About:
Legal Advocacy for Medical Freedoms | Patient Advocacy Tools | Effective Remedies
Help us educate and advocate by sharing this article today!
---
More from Courageous Voices
Attorney Todd Callender lays out the legal pathways currently under construction to corral us all into a new era of martial law. Todd's deep understanding of international law and politics, paired with a strong medical background helps him bring many things into perspective. He and Maria try to clear the sleep from our eyes and…