As the People's Convoy rolls across the country, many may wish they could participate.
We want you to know that even if you can't donate or join the convoy, there are steps you can take to move us back toward freedom.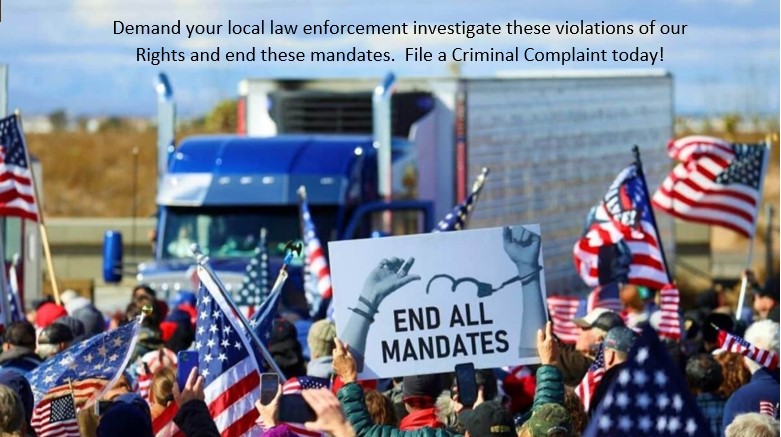 Organize with like-minded family and friends in your County. Complete any one of the many Criminal Complaint templates available on this or other websites (links below) and file those complaints with your local Sheriff, Law Enforcement, or Attorney General. Make it public by sharing the complaint, images, or videos on social medial and use the hashtag #Convoy4Freedom.
These violations are crimes; therefore, they must be filed as criminal complaints. They are not civil actions, we are not suing in civil court. They are counting us not to understand the nature of our criminal justice system, but this is our path forward.
People ask all the time, "Is this legal?" The answer more often than not should be, "no!" But what is legal and what laws are enforced is entirely up to us, as citizens. We should be asking, "What are we willing to stand for?" If we don't file complaints and ask for investigations, we are accepting this tyranny.
We are still free on paper, but that may change soon. We must assert our rights while we still have them.
No rally or slogan will free us if we do not use our justice system.
Use the forms at these links to complete and file a criminal complaint. You don't have to do it alone. Have your friends and family add their voice to your complaint. If legal in your state, video your group filing the complaint and post the video on social media. Let's make sure our country knows which law enforcement agencies are not pursuing justice when their citizens have filed a complaint.
Remember, most Sheriffs are elected and have more independence to pursue investigations than the police. Make sure yours is working for his constituents. The more complaints they get, the more likely they are to use resources to investigate and bring charges. We must not stand for these violations of our rights. If we don't stand up, it's as though we are giving permission. This is the process as laid out by our Constitution. No one else is coming to rescue us.
Learn more about the complaint filed in TX, here.
Resources for filing criminal complaints:
Join us on Telegram at Hands for Health and Freedom
The Criminal Complaint, with instructions, below is courtesy of Todd Callender, Esq. (Vaxxchoice.com, DRAdvocates.org)
Take Action – Join 1000's Across the Nation and File a Criminal Complaint – Learn More Here
Don't let the efforts of our People's Convoy and other courageous voices be in vain. Support their Medical Freedom Mission by asserting your God Given Rights, while you still can.
---
Learn More About:
Legal Advocacy for Medical Freedoms | Patient Advocacy Tools | Effective Remedies
Help us educate and advocate by sharing this article today!
More on Legal Advocacy
To Learn More About Filing a Criminal Complaint and Asserting Your Rights – Click Here
---
Point one of the Nuremberg Code states, "the voluntary consent of the human subject is absolutely essential." This standard has since been repeatedly ratified and adopted around the globe, in laws, treaties, regulations, and ethical guidelines for medical research. For example, in 1964, the World Medical Association adopted the Declaration of Helsinki, which provides that…

---