Unelected and Unafraid, Governor Hochul and Co. are working feverishly to strip what remains of a Citizen's Rights in NY.
Utilizing procedural pathways to carve out broad new powers for the Department of Health and Education, they will create an effective stranglehold on virtually every citizen. New York will soon be at the mercy of an Administrative State.
Stripped of State of Emergency powers, both curbed and expired, the newly 'selected' Governor Hochul is unabashed. She will soon have the power to isolate and quarantine citizens, simply suspected of having a 'communicable disease,' will be right at her fingertips with the well-crafted "Investigation of Communicable Disease; Isolation and Quarantine Rule."
And how about your right to visit a loved-one? You should probably consult the "Personal Caregiving and Compassionate Caregiving Visitors in Nursing Homes and Adult Care Facilities Rule" to better understand when and IF you will have any visitation rights.
I can only Imagine the sweeping powers that must fall under the "Prevention of COVID-19 Transmission by Covered Entities Rule."
These are just a few of the Valentine's Day surprises she has for you on the Proposed Regulations Docket of the NY State Department of Health. The comment period for all three ends on 2/14/22. It may be wise to make your voices heard!
Are You Prepared to Live in an Administrative State?
A quick look at the Proposed Regulations on the NY Dept. of Health Docket should give you pause. It's clear the DOH and NY Gov. are attempting to side-step the NY Legislature all together and become the new Law-Making Body.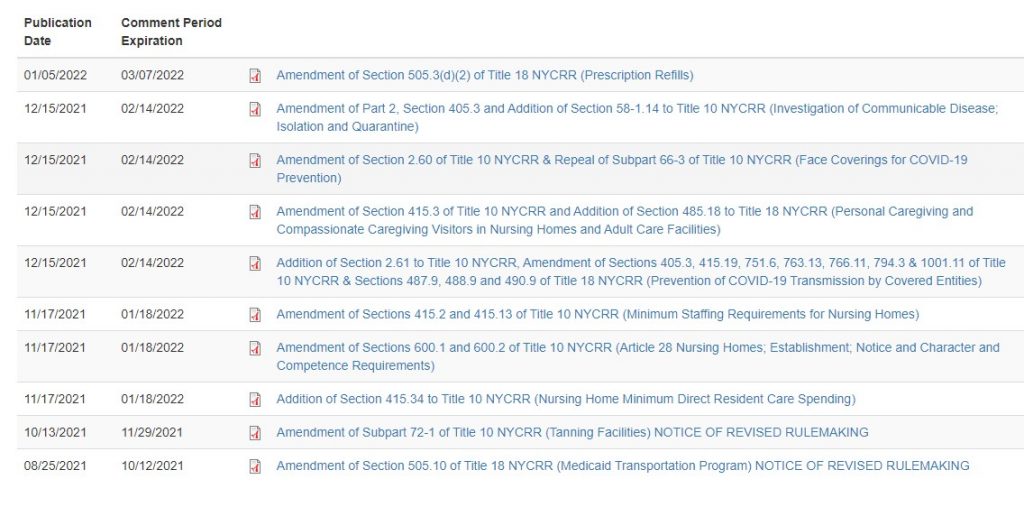 Government Advocacy must be taken up by all citizens using whatever leverage is available to them. There are resources springing up every day to help understand the forgotten tools of free citizens.
People's Coalition for NY, HandsforHealthandFreedom.org, and Bondsforthewin.com are just a few of the organizations that can get you started and help you take action to protect your freedoms while you still have them.
The People's Coalition for NY, an excellent grass-roots organization, has compiled resources and information to help inform New Yorkers of these vast infringements, both upcoming and past, and help them take action now. Visit their website to learn more.
THE THREE BRANCHES OF GOVERNMENT SHOULD BE SEPARATE BUT EQUAL WITH CHECKS AND BALANCES
NYS GOVERNMENT'S CHECKS AND BALANCES HAVE ERODED
► AGENCIES UNDER THE EXECUTIVE BRANCH ARE BYPASSING THE ELECTED NYS ASSEMBLY TO MAKE NEW RULES PERMANENT

► AGENCIES ARE USURPING THE LAW-MAKING POWER OF THE LEGISLATIVE BRANCH

► AGENCIES ARE NOT ELECTED THEREFORE THEY ARE NOT ACCOUNTABLE TO THE PEOPLE
A Summary of Recent Failing Policies brought to you by the NYS Department of Education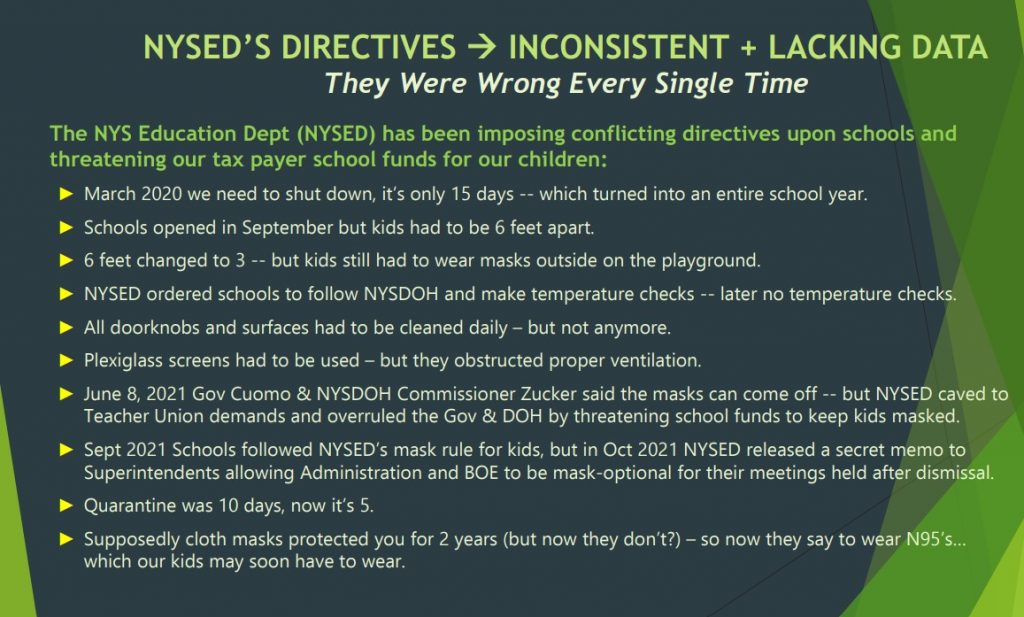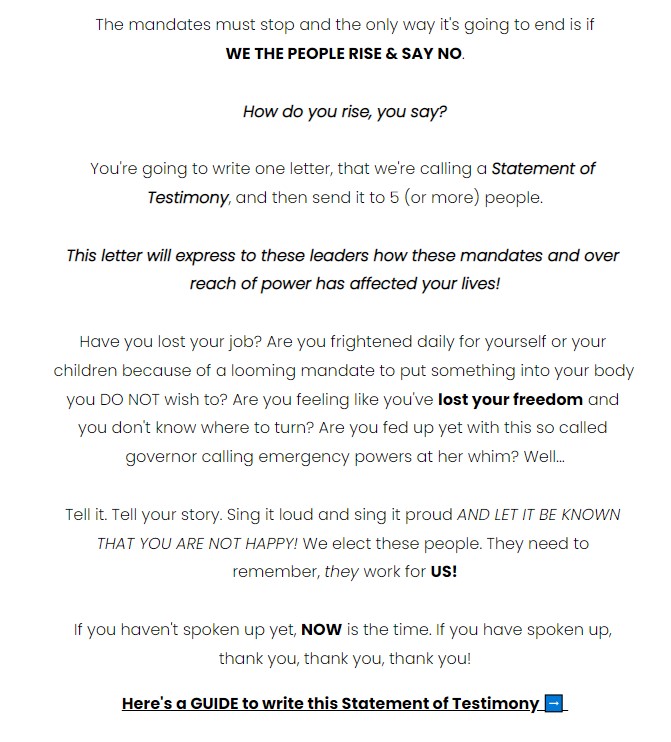 "While attempts to limit these oversteps have been muted recently in the courts, with a setback on the Mask Mandate Decision by The Hon. Thomas Rademaker, there is still much more we can do," says concerned citizen, Stephen Scher.
"In March 2021 the NYS legislature passed legislation to amend NY Executive Law curbing then Gov. Cuomo's emergency authority (limits his successors as well). Moreover, his Disaster Emergency Declaration (from March 2020) expired in June 2021.

On December 10, 2021, unelected NYS Gov. Hochul, in conjunction with NYS Health Commissioner Mary Basset, promulgated a "mask mandate" rule – 10 NYCRR §§ 2.60; 2.60(a). Which essentially requires that, inter alia, state residents wear a face covering in public places.

A legal action was brought in NYS Supreme Court (trial court) December 24, 2021, by Michael Demetriou and 13 other parents of school children challenging the putative mandate – Demetriou, Michael et al vs. New York State Department of Health et al (index no. 616124/2021).

The Hon. Thomas Rademaker, on January 24, 2022, determined that Basset's rule (and entire 12/10/2021 directive) as promulgated and enacted is violative of the NYS Constitution, the State Administrative Procedure Act and NY Public Health law and "null, void, and unenforceable as a matter of law." Furthermore, to maintain separation of powers and fundamental principles of checks and balances between legislative/executive branches the judge ordered that the DOH/Gov. are "permanently enjoined from enforcing" (as well as re-adopting) the 12/10 directive and 10 NYCRR §§ 2.60; 2.60(a).

Subsequently, a 2nd Department appellate judge issued a stay of Judge Rademaker's order. Submissions were required by EOD 1/28 and a decision is still pending."

-Stephen Scher, Concerned NY Citizen
---
Learn More About:
Legal Advocacy for Medical Freedoms | Patient Advocacy Tools | Effective Remedies
Help us educate and advocate by sharing this article today!
More on Medical Tyranny
---
Ali Shultz recorded the phone call she had with the Mayo's Chief Medical Officer regarding her visitation rights of her Father-in-law. To hear Dr. Chapital, Mayo Chief Medical Officer, confess to what is essentially conspiring and coordinating the restrictions on patient visitation to lower the standard of care in the local community, listen below. And…

---